Stages of Labor & How to know when true labor starts: A Midwife's Version
A local hospital posted the blog "Stages of Labor: How to Know When True Labor Starts" which they promoted on social media as the obstetrician's version of how women will know when true labor begins on their website: "We Deliver Dreams" (first of all… all the eye rolls). Babies are BIRTHED! Whether a vaginal birth or a belly birth, babies are birthed…Amazon packages are delivered.
Midwives tend to take a more natural approach to the labor process, so here is my take on a "midwife's version" of how to know when labor begins and what to expect in each stage!
Their blog post started off promisingly when they wrote "During a typical, full-term vaginal birth, there are three stages of labor. Because every pregnancy and delivery is different, there's no way to tell how long each stage will last. One of the most frequently asked questions by pregnant women, especially first-time moms-to-be is: How will I know when labor begins?"
Alright! Sounding good there. There is NO WAY to know how long each stage will last & for the most part, healthy women and healthy babies don't need strict or arbitrary timelines placed on the natural process.
but then they get started with the signs of labor…
I can agree with one of these points as a sure sign of labor: "Irregular contractions that become regular and more frequent and intense over time (as opposed to irregular and infrequent Braxton Hicks contractions)"
But lets back up to the first 3 bullet points: hardening of the abdomen, feeling as the baby as dropped, and loss of mucous plug.
How many of you had these signs for weeks OR MONTHS before you were in labor?!
Even if your water breaks, yes, that means you will be in labor soon, but its not an actual sign of labor. Should you notify your provider if your water breaks? Absolutely! Also make a note of the time, as well as the amount, color, and if there is any odor present.
Some pregnant people will have decided on antibiotic treatment if they tested positive for Group B Strep bacteria, which may need to begin once amniotic sac opens & the water is releasing. If they decided against antibiotics or tested negative, there's no reason to rush into the hospital to be poked and prodded. In fact, having repetitive cervical exams can increase the risk for infection to both the parent and the baby. Instead, the pregnant person should take a nap! They are about to be in labor and then awake with a newborn.
Now is a good time to rest and await labor. Maybe have some lunch. Stay well hydrated. Have a make out sesh.
Checking your own temperature every few hours to ensure that you don't develop a fever is a good idea. Taking a bath is fine at this point, but I wouldn't advise penetrative intercourse (although clitoral & nipple stimulation is a great idea!). Some times the client and the midwife decide together when the time comes to use some 'midwife tricks' to encourage the onset of active labor. It's all about weighting the pros and cons of getting things going versus continuing to await spontaneous labor. If quite some time has passed and birth still seems remote, the midwife and the client may decide on some preventative antibiotics. There comes a time when antibiotics may allow for continued patience, since an infection in the womb would be a serious complication. The client and the midwife should discuss and decide together, after considering the pros and cons of each option.
45% of labors will start on their own within 12 hours.
Other births may need 24-72 hours.
In my practice, I like to get things going within 36 hours from the time the water starts to release, since my clients desire to birth at home. So when the time is right, we use some midwife tricks to help bring about active labor & avoid transfer to the hospital. This is the guideline we have chosen, but other providers and families will have their own variations.
Now back to addressing the hospital's blog post. After outlining hardening of the abdomen, feeling like the baby has dropped, increased mucous, and the water breaking as signs of labor- they advise that pregnant people should go to the hospital AS SOON AS they experience any of these signs!
The post goes on to define early labor as dilating to only 3 centimeters! Many women go about their normal lives for several weeks or even a few months at 3+ centimeters dilated.
Back in 2014 (and reaffirmed in 2016), the American College of Obstetricians and Gynecologists (ACOG) issued a consensus statement aimed to improve outcomes by reducing c-sections. In this important statement, they defined the start of active labor as 6 centimeters.
Back when I was a young nurse, I worked in an amazing maternal child department at a hospital in upstate NY. I primarily worked in the hospital's natural birth birthing center, which was connected to a traditional labor & delivery, OR, NICU, postpartum unit, etc. I had the great fortune of working there during the time when the hospital put us all through an incredible training program designed to produce a culture shift towards safety, address systems error, and improve communication. It really was an amazing program. I learned so much & still use many of the skills and techniques to this day. One of the important factors in improving outcomes was to delay hospital admission until Active Labor.
We were trained that:
The most dangerous place for a person in early labor to be is in the hospital. -MoreOB
Once admitted, there's the expectation that labor will progress fairly quickly. Most hospitals expect labor to progress at at least a 1/2 centimeter cervical dilation each hour, without any pauses, rests, or any slower dilation.
But here's the thing…
there is so much more to labor than opening of a cervix!
Pre-labor contractions may start and stop for days or weeks & that's ok! Labor doesn't always have a strict and defined starting moment. It may ebb & flow for several night before it really kicks in.
Early labor is a great time to practice training your body to relax when a contraction starts. It's a great time to connect and lean in on your partner for support, as they also are practicing their role as a support person. It's a good time to continue to eat and drink, as you feel up to it. Stay upright. Rest if that feels right. Stay busy, if that feels right.
If you are planning a hospital or birth center birth, for MOST women (not those with a history of a rapid birth , who are high risk, or who live very far from their place of birth), you are safe to stay home until labor takes all of your attention.
Until you are no longer able to just go about your day.
Until you are staying focused both during the contraction & in between.
Active labor is a time when a person is transformed. A time when they summit their personal mountain. When they find a power within themselves that they didn't know was there.
Active labor is a time when a partner's protective instincts are awakened like never before. It's an opportunity for the partner to show how supportive they can be, and a time for the birthing person to trust their partner with the heaviness of the situation, their vulnerability, and their need. A birthing partner can be a spouse, an intimate lover, a doula, a midwife, a sister, or anyone with whom the birthing person feels safe & draws strength from; someone with whom the person feels safer & stronger because of their presence.
When they get to the place where they don't think they can go any further- and then they keep going anyway- THAT is when the magic happens.
Active labor is about so much more than dilating to 10 centimeters!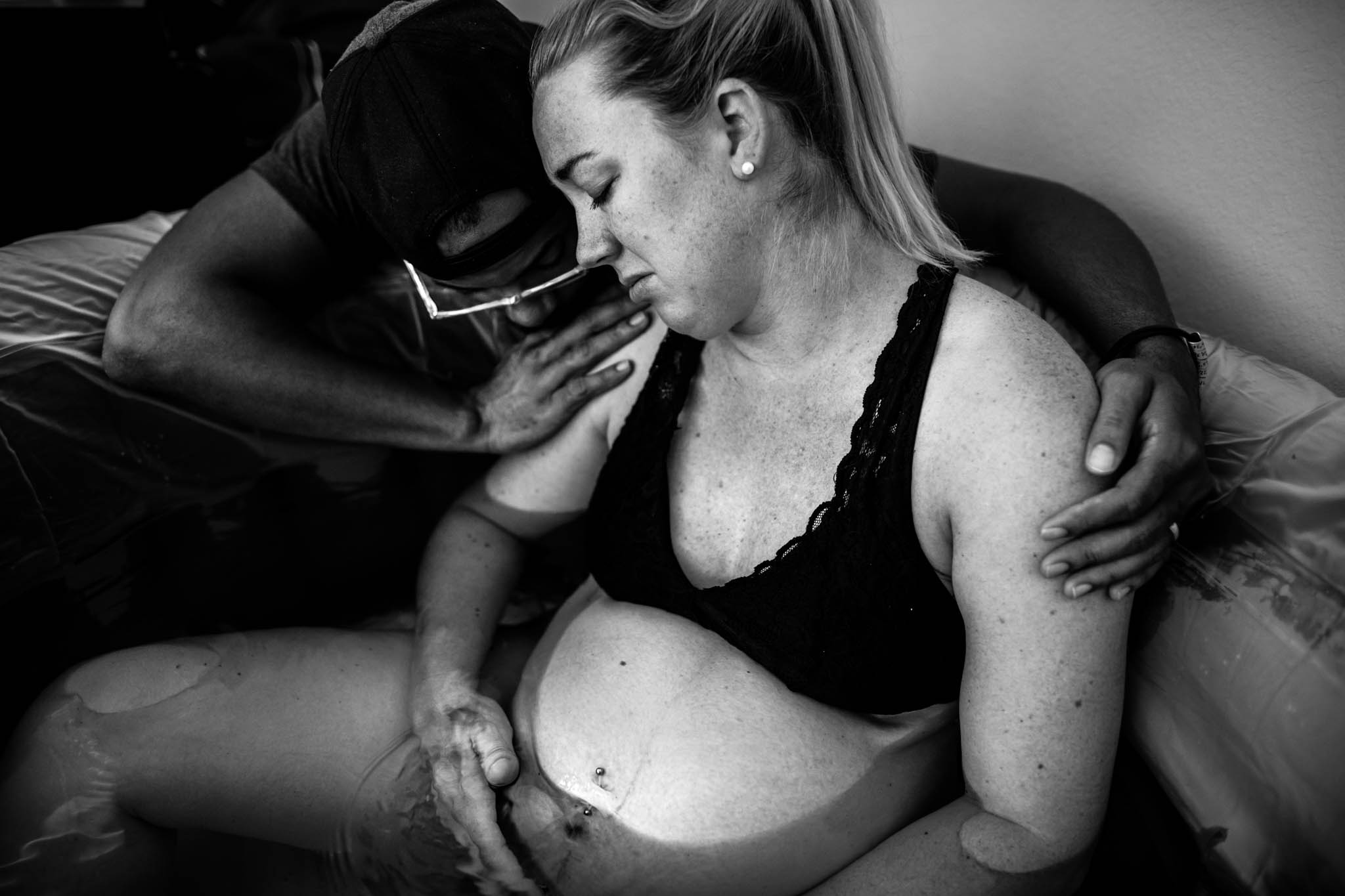 Stage 2: descent, fetal ejection, and birth
The hospital's blog describes stage 2 as a time when the "provider will give instructions for when to push." What they don't know (or choose not to accept) is that for MOST births, especially when the baby is positioned well & mom is well aligned (shout out to perinatal chiropractors!!), the body will continue to move the baby down through the pelvis. At a certain point, the fetus ejection reflex will take over & the baby will be born. The person giving birth may have an uncontrollable physiologic bearing down that cannot be stopped.
One of the most frustrating things for people giving birth is when they are instructed not to push because the provider is not present yet.
yeah, right. It's like telling someone not to vomit when it's already half way up. It's uncontrollable!
In our practice, we do not routinely do pelvic exams in order to "give permission" to push. We just wait. Of course, if our instincts and observations tell us something might be array or we are not able to tell what is the next best course of action by external observation alone, then we discuss the option for a pelvic exam with the client. We provide for time for the client to consider the option & decide if that sounds like a good plan or not. We NEVER so invasively touch another person's body without their absolute permission in the moment.
Also, in our practice, we do not cut the umbilical cord right away. We let the placenta come on it's own time, sometimes we have the client squat so that gravity can aid in it's expulsion, other times we gently guide it as the client pushes it out. This is called the 3rd stage of labor. We do not routinely cut the umbilical cord before the 3rd stage is complete. We want to make sure that the baby get's all of it's blood that is in the placenta before the cord is severed. The baby needs all of it's blood! Seems like a no-brainer to us.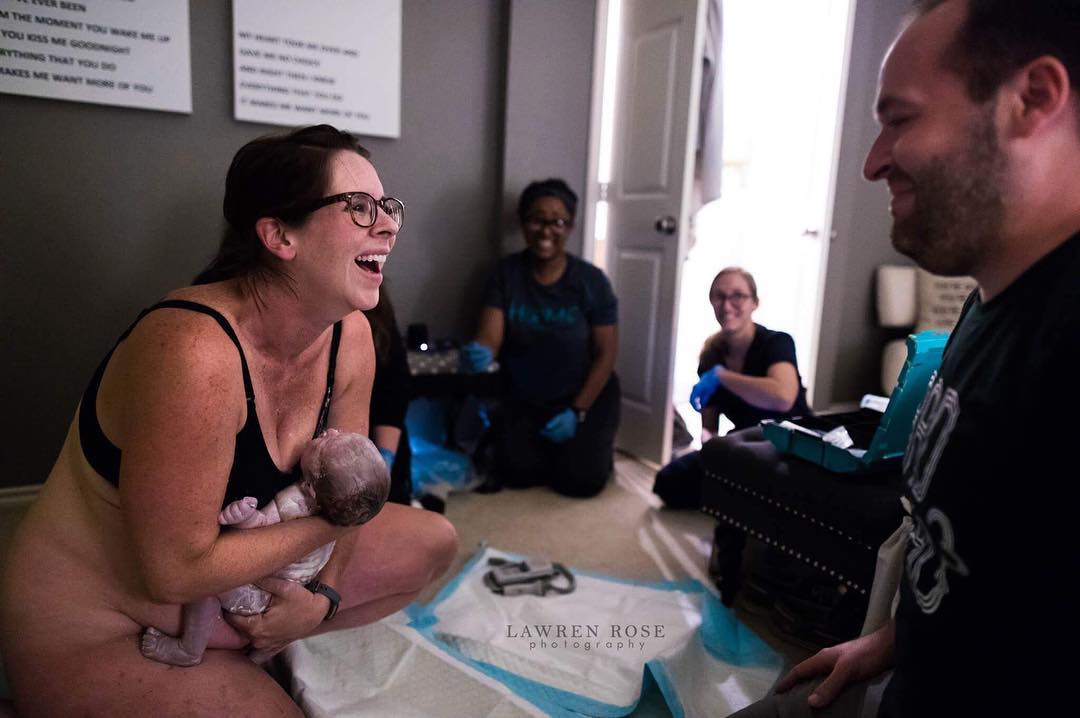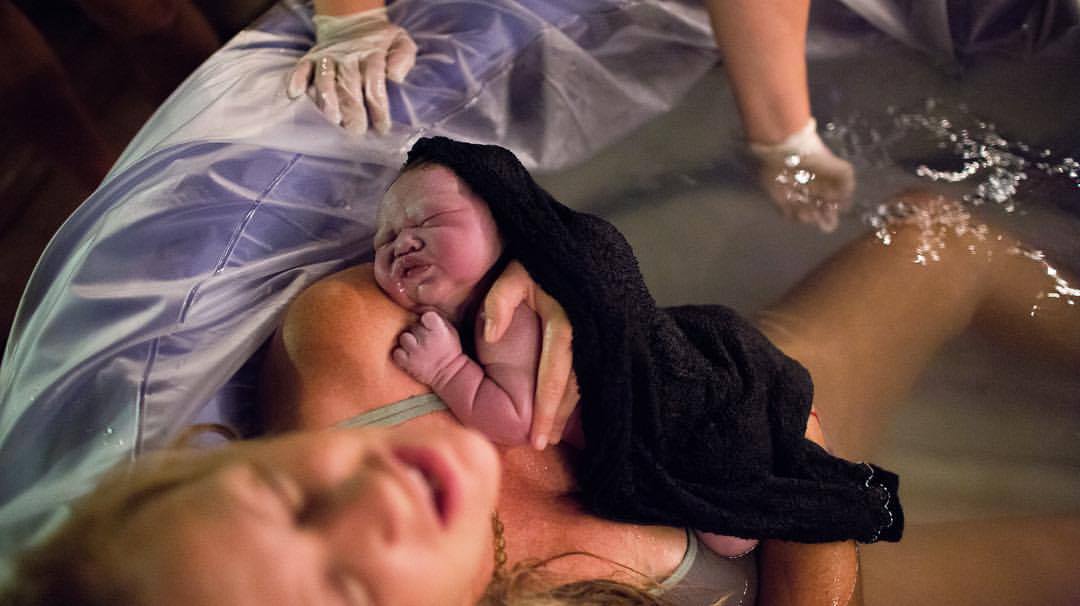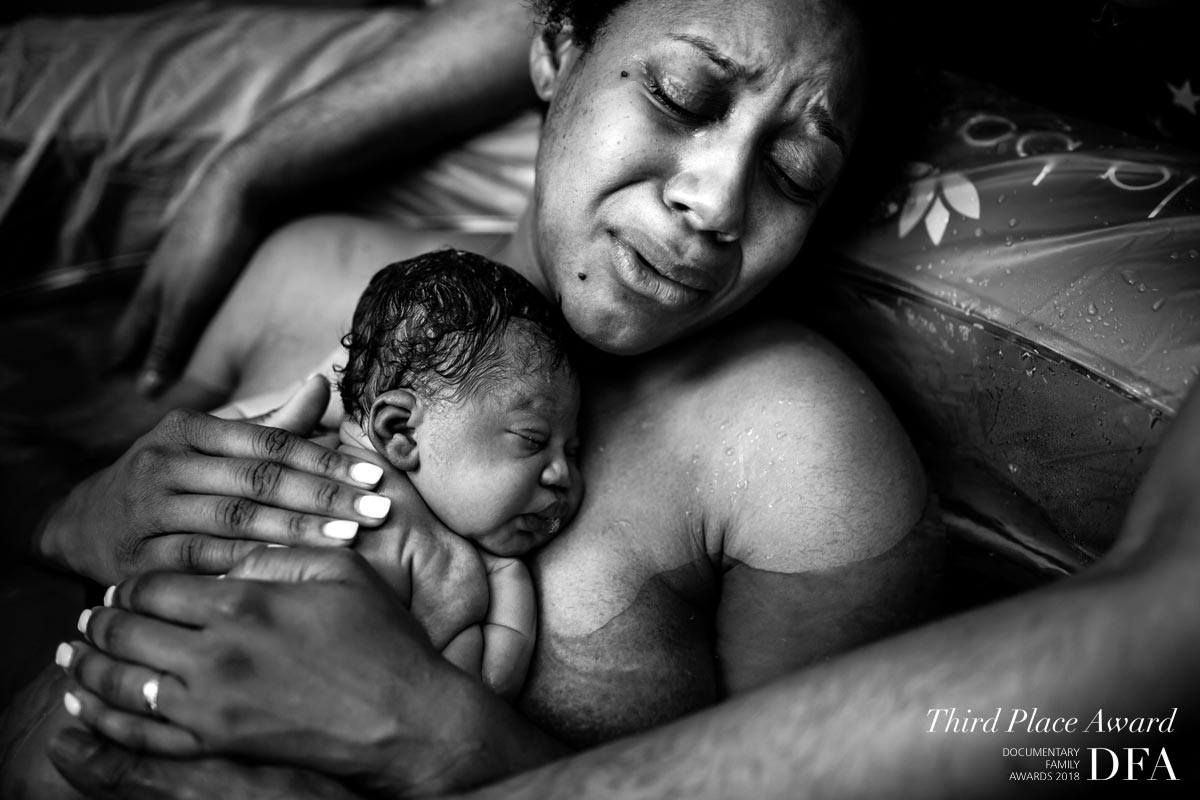 Labor is not simply the dilation of the cervix. The birthing person is not merely a "passage" and the baby is not merely a "passenger." There is so much more transformation that comes with the process. Babies don't need to be "delivered" from the womb.
Babies need to be birthed. Parents need to be born, too.
Special Thanks for Lawren Rose Photography for the beautiful photos, which truly capture the essence of the experience of giving birth. Follow her on Instagram and Facebook for more incredible imagery.